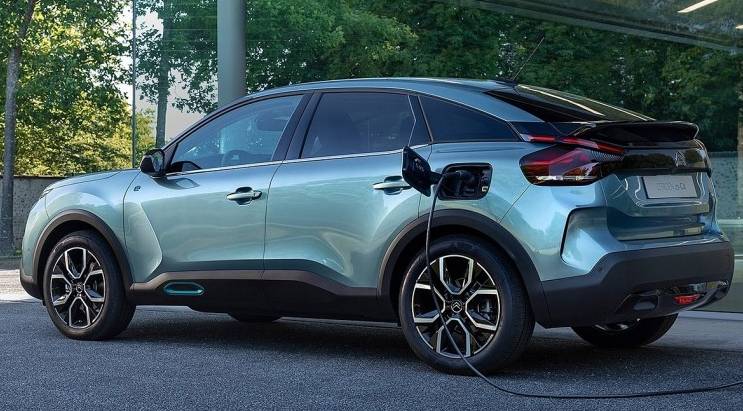 Citroën E-C4 recall: rear springs can become loose
On the Citroën C4 electric variant, there is a chance that the rear springs will come loose during driving.
Citroën is recalling its electric e-C4 model back to workshops . That's because there's a possibility that the rear coil springs and their holders could come loose from the car while driving and end up in the carriageway. There are 8,770 electric cars worldwide, including 994 in Germany, which were produced between 2020 and 2021.
As a corrective measure, the respective springs and spring supports are replaced in the workshop . The tracked action is internally abbreviated 'HWH'.
What is this Citroen E-C4
The car reaches 100 km/h in 9.7 seconds and reaches 150 km/h.
This is the electric version of the new C4, which, however, is a replacement for the non-hatchback with the former name, the lightweight compact crossover C4 Cactus.
Like its closest relatives, the ё-C4 gets a 136hp electric motor that only turns the front wheels, and a 50-kilowatt-hour battery.
The range on a single charge is estimated at 350 kilometres on the WLTP cycle. From the new data: acceleration to 100 km/h takes 9.7 seconds, the top speed is 150 km/h.
Despite the image of a crossover, the ё-C4 boasts of ground clearance of only 156 mm. This is an average level for ordinary cars adapted to Russian conditions. The length of the car is 4360 mm, width – 1800 mm, height – 1525 mm.
The peculiarity of the chassis is the suspension Progressive Hydraulic Cushions. Of course, this is not a full-fledged hydraulic suspension, which was installed on earlier large Citroen models, but only hydraulic travel limiters. They do, however, allow the conventional springs to actuate to rebound without fear of hitting the traditional rubber travel limiter, which rather harshly transmits shock to the body. The original hydraulic bump stops significantly improve ride smoothness.